News
Ecological funeral products presented live and in the internet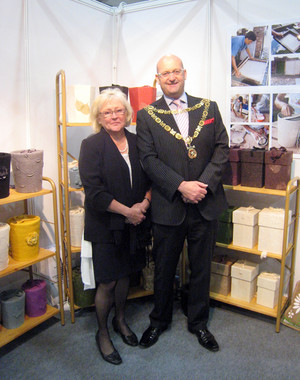 Within a year Lalupate Ltd. has taken part in funeral shows for professionals in Finland, Sweden, the Netherlands and England. The aim has been to get a wider audience for our collection of unique urns and baby caskets. These events have also helped us in growing our knowledge about possibilities of ecological burying.

The last event, where we took part, was the National Funeral Exhibition 2013 in Stoneleigh Park, England in the beginning of June. The exhibition was a success for our company and we managed to create several new contacts.

During Spring and Summer 2013 we have worked on our new webshop for urns and baby caskets. Now the shop is finally open! This way Lalupate Ltd. wishes to serve both professional and private customers easier and more flexible. Information about the products and their quantity in stock can be seen in the webshop.

We are happy to help everyone with questions about our urns and caskets (f.ex. choosing the right size) by e-mail or phone.

In the photo Riitta Reinilä-Strömmer, MD of Lalupate Ltd. with Simon Fisher, President of National Association of Funeral Directors in the UK at the NFE 2013 in Stoneleigh Park.